It makes no difference if you are buying, selling or renting, KBS Realty is ready to serve you.  Our coverage territories span Rockland, Westchester, Orange, Bronx, Putnam & Dutchess Counties.  Each of these real estate markets are made up of many smaller communities and neighborhoods that require our focus to find you the best fit for you needs.

These Counties present variety and each has its own unique characteristics. Whether it's location and what's in the neighborhood or nearby, or it's simply the price ranges of the homes in the area, there will be differences and we want to help our site visitors to understand those differences and use the information here in making lifestyle decisions.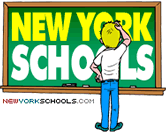 NewYorkSchools.com offers free public and private school information for those thinking of relocating to a New York school, or those just in search of more information regarding their local education system. We cover everything from elementary schools to elite private New York high schools. Use our detailed district and individual school profile information to help decide what school is best for your student. Be sure to check out our comprehensive library directory, parent resources directory, and education news blog as well. If you are looking to get in touch with old school friends, try out our alumnus search.
Browse Using the New York Public Schools by County